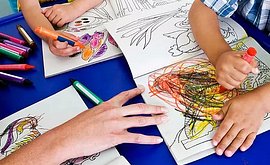 "Musarat has been caring for my children for the past 2 years, and I have been thrilled with the quality of care she provides. She is calm, professional, and very loving with the children. They adore her. She is a registered ECE with years of experience, and she provides a safe and fun environment. Lots of outings to parks and drop-in centres ..........."
"My daughter has been in Musarat's care since she was 16 months old. Musarat is everything we wanted in a care provider, and more. She is warm, attentive and loving with the children, creating an environment which is stimulating and comforting. Her training as an ECE is evident in the range of appropriate activities she provides .............."
"I sent my son to Musarat's daycare after he was struggling with another caregiver. He was so upset and sad to go to his other daycare, but from day one - Musarat has been so caring and patient and wonderful with him, and he is not sad or upset to be separated from me. Musarat has a great program and visits the local drop-in centres......... "
SEE WHAT PARENTS ARE SAYING
Contact us today and find out more!
Welcome to Kids Korner Home Daycare. We are committed to providing a safe, warm, loving environment for children where they can learn and grow physically, emotionally, creatively, intellectually, and socially at their own pace.
We strongly believe in offering a program that promotes healthy development in all aspects by creating a warm, loving, safe, positive and fun environment.